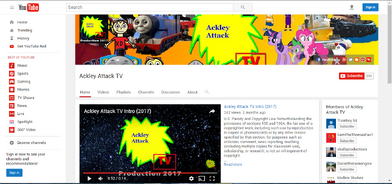 Ackleyattack4427 is both the creator and voice actor for Thomas, Edward, Gordon, Duck, Oliver, Toad, Kevin, Diesel 10, Troublesome Trucks, Murdoch, Bertie, Bulgy, Bill + Ben, Cranky, Harold, Flying Scotsman, Jimmy, Jack + The Pack and Peter Sam in "Thomas & Friends: Island of Sodor Adventures" For the time being, he was gone for violating YouTube's Terms of Service, but as of right now, he is back as "Ackley Attack TV".
Awards
Background Information
He lives in McGraw, NY.
As of January 19th, 2017, he currently has over 600 subscribers.
Voices
Thomas, Edward, Gordon, Duck, Oliver, Toad,

Kevin

, Diesel 10, Troublesome Trucks, Murdoch, Bertie,

Bulgy

, Bill + Ben,

Cranky

, Harold,

Flying Scotsman

,

Jimmy

,

Jack + The Pack

and

Peter Sam

 - Thomas & Friends: Island of Sodor Adventures
Homestar Runner, Strong Bad, The Cheat, Strong Sad, The King of Town, Bubs, Homestar, Coach Z, Strong Mad, Marzipan and Senor Cardgage - The Homestar Runner Show
TBA
TBA
Live-Action Roles
Links
Related Articles
Shows
Musicals
YouTubers