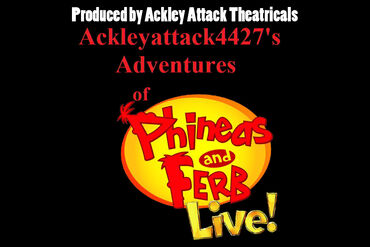 Ackleyattack4427's Adventures of Phineas and Ferb LIVE! is a live stage show produced by Ackley Attack Theatricals based on the show with the same name under license from Ackley Attack TV which will be touring soon.
On ("Insert Date Here"), Ackley Attack Theatricals launched Ackleyattack4427's Adventures of Phineas and Ferb LIVE! at ("Insert Theatre Here") at ("Insert City/State Here"). The 2½ hour show features all of your favorite characters from the series, including Ackleyattack4427, Phineas, Ferb, Isabella, Buford, Baljeet, Candace, Jeremy and many more of your favorite characters.
The show features the re-worked versions of the songs from the Phineas and Ferb TV show made to fit the characters singing them for the production. Ackleyattack4427 and Isabella also sings a medley of Broadway hits, including WICKED, A Chorus Line, West Side Story, Les Miserables, Joseph and the Amazing Technicolor Dreamcoat and Billy Elliot: The Musical.
However, due to the announcement on the series ending, it is announced as well that the live stage show is now cancelled.
Plot
Act I
TBA
Act II
TBA
Transcript
For a full transcript of Ackleyattack4427's Adventures of Phineas and Ferb LIVE!, click here.
Songs
Act I
Act II
Pre-show, Intermission and Post-show
Gallery
Running Gags
The "Too Young" Line
TBA
Ferb's Line
TBA
What'cha doin?
TBA
I know what we are gonna do today
TBA
Hey, Where's Perry?
TBA
Percy's entrance to his liar
TBA
Evil Jingle
TBA
Memorable Quotes
TBA
Background Information
Continuity
Production Information
Sponsers
TBA (Month/Day/Year-Month/Day/Year)
Show Dates
Main Article: Ackleyattack4427's Adventures of Phineas and Ferb LIVE!/Show Dates
Merchandise
Available merchandise that appears to be exclusive to the tour includes:
Tour Program with games, photos and more
On-site photos with Phineas, Ferb and Ben Ackley standees against a backdrop of Phineas and Ferb's backyard
Mug for snow cones with Agent P's head and fedora for the cover
Mug for snow cones with Phineas, Ferb and Agent P on the sides
Agent P disguise kit
Hats:

Phineas hat with red foam hair mimicking Phineas' traditional look
Fedora with Agent P embroidered on the backside kit
Perry baseball cap with the Ackleyattack4427's Adventures of Phineas and Ferb logo in left side.

Sunglasses with flashing lights
Rotating Illuminator
Ray gun with sound effects
Light stick
Sign featuring Ben Ackley, Jon McDowell, Sam Tindal, Nicholas Krauss and Cheyenne Klein and the phrase "104 Days of Summer Vacation!"
4½" "twirl pop" with an Agent P sticker on the plastic covering
Plushies (Small and Medium) of Phineas, Ferb, Ben Ackley and Perry the Platypus
Child and Adult Sized T-shirts (Small, Medium, Large and Extra-Large):

"Beware the Stare" Agent P shirt
Phineas and Ferb "Let's Rock" shirt
Isabella standing in front of a sprial design
Tour poster shirt
Candace standing in front of a pattern with various circles in it

Agent P felt pennet
An autograph book with clip-on pen
An pillow with Isabella's picture on a pink background with purple asterisks.
Phineas, Ferb and Agent P figures
An secret agent kit with invisible and revealing pens and a magnifying glass in a tin lunchbox.
Light-up tambourine and cup.
Cast
Actors (????-???? Opening Cast)
Voices
TBA as TBA
TBA as TBA
TBA as TBA
TBA as TBA
TBA as TBA
Production Team
TBA - Producer
TBA - Director
TBA - Choreographer
TBA - Writer
TBA - Scenic Designer
TBA - Costume Designer
TBA - Lighting Designer
TBA - Music Director
TBA - Gymnastic Coach
TBA - Acrobatic Choreographer
TBA - Company Manager
TBA - Stage Manager
TBA - Preformance Director
Related Articles
Theatrical Shows
Shows
Musicals
Contact Information
Community content is available under
CC-BY-SA
unless otherwise noted.