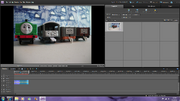 Adobe Premiere Elements 9 is a video editing software published by Adobe Systems. It is a scaled-down version of the Adobe Premiere Pro and is tailored to novice editors and consumers. Ben uses this software to edit shows such as "Thomas' Adventures with SamTheThomasFan1 & Ackleyattack4427", "WTPU? (What the Pickup?), Family Movie Collaboration, Ackleyattack4427's Adventures of Phineas and Ferb, the old version and the new version of Thomas & Friends: Island of Sodor Adventures, as well the upcoming series "Pokémon - The Live-Action Series". The software has two versions. One for Windows. And one for Mac. Ben currently uses the Mac version of the software.
Earliest Videos
After being inspired by how missoliverandblossom (now known as DaWillstanator) uses Adobe Premiere Elements 3.0, Ben decided to get the same exact software that he has. So he asked his parents to get the software for him. But his parents refused until in April of 2011 when Ben's parents finally got him the software. He first used the software in a video called "Great Western Pack - ARRIVED." The video turned out great and he later made another video called, "My Trip to the Bigger and Better Model Train Fair (2010)". But for some reason, the video turned out to be in bad quality than any of DaWillstanator's videos. Not to mention that this video also took Ben several months to get it done and get it posted on his original account due for the fact that he was pretty much lazy and too busy to post it a few weeks after the train show back in 2010.
Community content is available under
CC-BY-SA
unless otherwise noted.