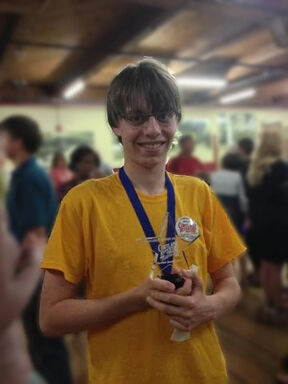 Benjamin David "Ben" Ackley (Born November 6, 1995) is an American actor, voice actor, singer, comedian, editor, writer, producer and director, but is known on YouTube as, "Ackleyattack4427." He founded his online media company, Ackley Attack TV on October 24, 2008.
Early Life
Ackley was born in McGraw, New York.
Career
Early Work
Around the time he started high school in 2008, he began with musicals starting with his high school production of "Oliver!" in 2009.
Ackley Attack TV and YouTube
Right before he signed up onto YouTube, back in Late-2007 to Mid-2008, he first founded Ackley Attack TV as a film company first where he can make some movies. His first plans was to make an independent Thomas the Tank Engine film called, "Thomas and the Lost Temple of Sodor," but sadly, it was scrapped when it was first started due to lack of interest.
On October 24, 2008, he decided to bring it to an audience around the globe via internet, by creating a YouTube channel known as "Ackleyattack4427." There was no information on how he created his channel in the first place. But, rumor has it that he created that name after he watched an episode of "Phineas and Ferb" where Dr. Doofenshmirtz had a profile on a dating website known as "Strudelcutie4427." Currently, there was no radio interview or news broadcast on this guy, but has been recognized by almost everyone.
Movies, Redubs and Future Projects
Personal Life and Views
As of Late-August of 2014, he is attending Tompkins Cortland Community College to take a Digital Cinema program.
Filmography
Internet
Internet Projects by Ben Ackley
| Year | Title | Role | Note |
| --- | --- | --- | --- |
| 2012 -present | Thomas & Friends: Island of Sodor Adventures | TBA | Show's Creator, Director, Producer & Voice Actor |
| 2012 -present | Thomas' Adventures with SamTheThomasFan1 & Ackleyattack4427 | Himself | Actor, Writer, Executive Producer & Director |
| 2012 | Ackleyattack4427's Adventures of Phineas and Ferb | Himself | Show's Creator, Director, Producer & Actor |
| 2013 -present | Family Movie Collaboration | Himself | Host, Writer & Director |
| 2014 - Present | Convention Vlogs & Highlights | Himself | Creator, Host & Director |
| 2016 - Present | WTPU? (What the Pickup?) | Himself | Host, Director & Producer |
| 2017 - Present | Ackley Reacts | Himself | Host, Director, Producer & Editor |
| TBA | Cheyenne and Tails Doll visits Shining Time Station | N/A | Writer, Executive Producer & Creative Consultant |
| TBA | Thomas' Adventures with SamTheThomasFan1 & Ackleyattack4427 E-MailBox | Himself | Show's Creator, Actor, Producer & Director |
| TBA | Pokémon - The Live-Action Series | TBA | Show's Creator, Actor, Writer, Producer & Director |
Internet Projects by Other People
Year
Title
Role
Note
2010-2012
Sodor Adventures
Gordon
First Voice Acting Appearance
2010
Thomas the Wooden Model
The Bad Manager, Jimmy, Carl, Brian the Crane & Mikey the Inspector
1 Episode

(Also Created the Episode Idea)

2010
Thomas & Jackie
Thomas
2011
The Thomas Tank Engine Show: Day of the Diesels Interviews Special
Stepney
2011-present
TOMY/Trackmaster T&F
Whiff, Neville and Stanley

Formally: Charlie and Phineas

2011-2014
Trainboy54's Adventures of Phineas and Ferb
Himself
25 Episodes

First Onscreen Appearance (17 Episodes)

Voice Over Appearance (8 Episodes)

2012
Dover Valley Railroad Stories
Mr. Ben
2012
Thomas The Trackmaster Show
Den
2013
American Government Unit 3 High School Project: Thomas and the

Congress Bill

Congress Bill & Percy
School Project by dcolemanh
2013
Baseball Practice
Himself
Sketch by TVNicholasKrauss
2013
Brian Bandonson: General Manager
Himself
Cameo ("Night Shift")
2013-2014
Engines Tonight: Gerald's Spy Game
Alonso and Acer
2015

Adventures of the Sodor Railway

Shedmate #2
2015
Billy Time!
Himself
Cameo

Episode: "RetroGameCon 2015"

2016
Press Your Luck
Himself
2016 - Present

Sodor Pony Railway Adventures

James

Conductor

3 Episodes
2016
TVNicholasKrauss' 5th Anniversary Special
Himself
2016
Billy Time!
Himself
Cameo

Episode: "RetroGameCon 2016"

2016
The Buddy System
Himself
Guest Co-Star

Episode: "Part 4: Ackley Attack"

2017 - Present
The Army Train
Ben
1 Episode
TBA
Thomas and the Magic Railroad Redub
Thomas, Splatter & Dodge
Redub Project by

ThomasEngine2436

TBA
Thomas Comedies
Stepney
Film
| Year | Title | Role | Note |
| --- | --- | --- | --- |
| TBA | TBA | TBA | TBA |
Television
| Year | Title | Role | Note |
| --- | --- | --- | --- |
| TBA | TBA | TBA | TBA |
Stage
| Year | Title | Role | Note |
| --- | --- | --- | --- |
| 2009 | Oliver! | Orphan/Bookseller's Boy | First Stage Debut |
| 2010 | Peter Pan | Curly | |
| 2011 | The Sound of Music | Friedrick | |
| 2012 | Annie | Bert Healy/Howe | CRT Pavilion Award - Featured Actor in a Musical: Nominated |
| 2013 | You're a Good Man, Charlie Brown | Linus Van Pelt | CRT Pavilion Award - Featured Actor in a Musical: Won |
| 2014 | The King and I | The Kralahome | CRT Pavilion Award - Featured Actor in a Musical: Nominated |
Discography
External Links