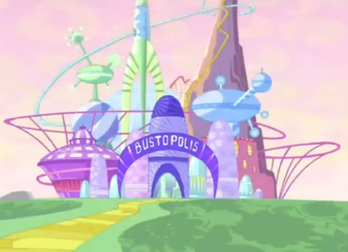 Bustopolis is a large, but very creative city from The Land of Odd that appeared in "Phineas and Ferb" in "Wizard of Odd" and also appeared in "Odd-tastic: The Musical." The popluation of Bustopolis is 265,452 as seen at the sign next to the yellow sidewalk just about 5 feet away from Jeremy's Cabin.
Downtown Locations
The Wizard's Chamber
TBA
The Concert Hall
TBA
Bust Park
TBA
Bustopolis Museum
TBA
Bustopolis Public Library
TBA
The Queen Victoria Palace Theatre
TBA
Suburban Bustopolis
The Farmer's Market
TBA
The Bust-able Amusement Park
TBA
Geographical Points of Interest
Note: These's are actual places apart from Bustopolis
Beach
TBA
Future
TBA
Background Information
Related Articles
Shows
Musicals
Movies
Community content is available under
CC-BY-SA
unless otherwise noted.