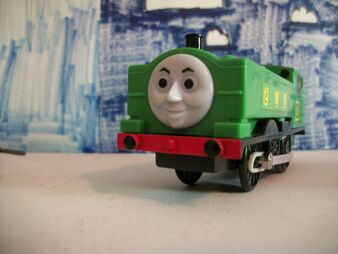 Duck the Great Western Engine is the Great Western Engine who lives on The Island of Sodor. His friend, Oliver and him works at a line called "The Little Western." His first appearance in "Thomas & Friends: Island of Sodor Adventures" is Percy & The Haunted Scrapyard. He will be voiced by Ackleyattack4427.
Early Life
Duck has been introduced to Sodor for when the work is too heavy for Percy.
Gordon, James, and Henry use to make fun at Duck because of his name. But, Duck works on Percy's work after Percy has been sent away for a little while.
For when Diesel told lies about him, Duck has been sent to Edward's Station to help work with Edward.
After being ran away by the Troublesome Trucks, Sir Topham Hatt decided to send Duck back and send Diesel away. The Engines all missed him and after a few days of repairs, Duck came back and is here to stay with the other engines
After Oliver was saved from scrap, he and Toad now work with Duck on The Little Western.
Present Life
Personality
Duck is brave, fearless, kind, and spritied, eager to work on Sir Topham Hatt's railway on the Island of Sodor.
Most of the time, it is just for the Great Western way.
He is mostly optimisitic, but also cares for, and worries about the other engines sometimes. This is the way to show the he has enough epic to take on the Troublesome Trucks. ("Duck vs. S.C. Ruffey")
Being a Great Western engines mean taking on bigger jobs and bigger challenges. He learned how to shown what his friends on Sodor know how he feels. ("Edward and Emily")
Physical Appearance
Duck is a 57xx class steam engine built in The Great Western Railway. He is painted green and is given the initals G.W.R which stands for "Great Western Railway." He is also given a number 8 on the on both sides of his cab. Sometimes, he can also cause a little bit of trouble from while doing his work.
Relationships
TBA
TBA
TBA
TBA
TBA
Gallery
Background Information
Appearances
Related Articles
Shows
Musicals
Characters
Contact Information
Community content is available under
CC-BY-SA
unless otherwise noted.