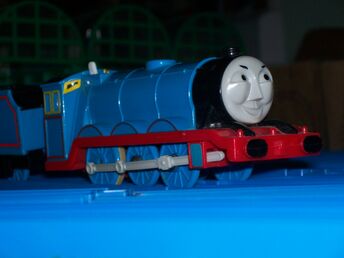 Gordon is an express engine that works on the Island of Sodor. He can pull passengers, but he also can pull freight cars only on rare occasions when he is not pulling the express. His first appearance in "Thomas & Friends: Island of Sodor Adventures" is Thomas Helps Out. He will be voiced by Ackleyattack4427.
Early Life
Gordon has been introduced to Sodor when he was being teased by Thomas. He got back at him by taking him for a ride on his express train.
He and Edward use to make fun at Henry for staying at

Henry's Tunnel

.
He once fell in a ditch for not taking freight cars, but then, he helped get Thomas out of the sink-hole at the mine just 5 miles away from

Knapford Station

.
Present Life
Gordon still pulls the express, but still pulls freight cars, still only on rare occasions.
He and Thomas can help each other out when they are not to busy with work.
Henry and James can do Gordon's express train when he is ill, tried, and when he is taking a day

off.
He can also pull freight cars and also can teach the Troublesome Trucks manners.
Personality
Physical Appearance
Gordon is a 4-6-2 similar to the Flying Scotsman, a LNER A3 class locomotive. He is painted blue, like Thomas, and Edward. He has a numer 4 painted on both sides of his tender. He can pull the express to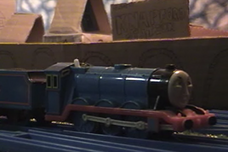 get people from station to station all over the Island of Sodor.
Relationships
TBA
TBA
TBA
TBA
TBA
Gallery
Background Information
Appearances
Related Articles
Shows
Model Train's Model Reviews
Musicals
Characters
Contact Information