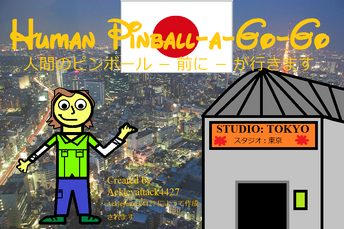 Human Pinball-a-Go-Go is the all-new show where 12 teenagers from across the globe attempt to compete in challenges on a Japanese gameshow in Tokyo's most-popular film and TV studio, Studio: Tokyo. Join the host of the show, Christian Tsing for sme crazy adventures in Tokyo, Japan in the all-new animated reality show like you've never seen before.
Episodes
Season 1
Movies
Specials
Transcripts
Episodes
Season 1
Movies
Specials
Cast
Season 1 Cast
Season 2 Cast
Season 3 Cast
Gallery
Background Information
Production Information
Domestic Premieres
International Premieres
Errors
Allusions
Awards
Related Articles
Shows
Movies
Musicals
Contact Infomation
Community content is available under
CC-BY-SA
unless otherwise noted.