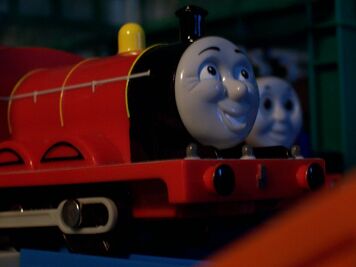 James the Red Engine is a mixed traffic engine who can pull both passengers and freight cars who lives on the Island of Sodor. His two friends, Gordon and Henry usually help each other out for when there are having trouble. His first appearance in "Thomas & Friends: Island of Sodor Adventures" is Thomas Helps Out. He will be voiced by SamTheThomasFan1.
Early Life
James was introduced to Sodor when he was in trouble by the Troublesome Trucks and crashed into a cow field and ruined his paint work. After the accident, he was rescued by Thomas.
James was having trouble with passenger trains, so after handling a freight trains, Sir Topham Hatt decided to keep his red paint. But, after that, he fianlly can handle passenger trains.
He was run away by the Troublesome Trucks again, but this time, crashing into a train of tar wagons covered with tar after the crash. After that, he has been cleaned after the tar was sticked onto his red paint and was back to work after showing off his red paint and making fun with Toby.
Present Life
James now works with the other engines near and far from

Tidmouth Sheds

with the other engines, like Thomas, Percy, Edward, Gordon, Henry, and Emily.
He can still pull both freight cars and passengers lie he usually do everyday.
Personality
Physical Appearance
James is a Southern Railway N class that works on Mid Hants Railway. He is painted red with yellow stripes on his boiler. He has been given a number 5 painted on both sides of his tender. Sometimes, like Duck, he can cause trouble from doing his work.
Relationships
Gallery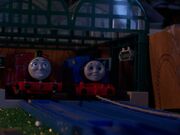 Background Information
Appearances
Realted Articles
Shows
Ackleyattack4427's Broadway Musical Reviews
Musicals
Characters
Contact Information