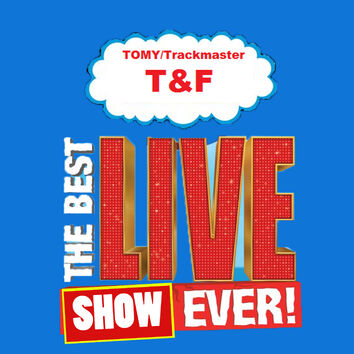 TOMY/Trackmaster T&F: The Best LIVE Show Ever! (referred to in advertising as TOMY/Trackmaster T&F LIVE!) is a live stage show produced by Ackley Attack Theatricals under license from Trainboy54 Productions which will tour soon...ish!
On ("Insert Date Here"), Trainboy54 Productions launched TOMY/Trackmaster T&F LIVE! at Crouse-Hinds at Oncenter Complex in Syracuse, NY. The 2½ hour show features live trains used in the Thomas & Friends Live! On Stage for the characters. Some including Thomas, Percy, Toby, Edward, Gordon, Henry and James, along with The Danville Locos including Phineas, Ferb, Isabella, Candace, Stacy, and the Fireside Girls. A few backup dancers and a stationmaster appear as well. The show features one original song written for the production, while the rest are re-worked versions of the songs from the "TOMY/Trackmaster T&F" show made to fit the characters singing them. Gordon and Emily also sings a medley of Broadway hits, including One from A Chorus Line and Memory from Cats.
Plot
Act I
TBA
Act II
TBA
Transcript
For a full transcript of TOMY/Trackmaster T&F: The Best LIVE Show Ever!, click here.
Songs
Act I
Act II
Before to start, mid time, and end
Gallery
---
---
Production Information
Sponsers
TBA (Month/Day/Year-Month/Day/Year)
Show Dates
Main Article: TOMY/Trackmaster T&F: The Best LIVE Show Ever!/Show Dates
Merchandise
Cast
Actors (Opening Cast)
TBA as TBA
TBA as TBA
TBA as TBA
TBA as TBA
TBA as TBA
Voices
TBA as TBA
TBA as TBA
TBA as TBA
TBA as TBA
TBA as TBA
Production Team
TBA-Producer
TBA-Director
TBA-Choreographer
TBA-Writier
TBA-Scenic Designer
TBA-Costume Designer
TBA-Lighting Designer
TBA-Music Director
TBA-Gymnastic Coach/Acrobatic Choreographer
TBA-Company Manager
TBA-Stage Manager
TBA-Performance Director
Contact Information