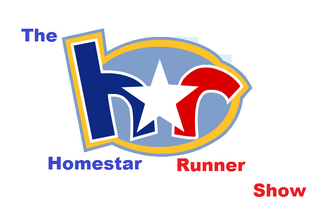 The Homestar Runner Show is the all-new series to ever hit YouTube with everyones favorite character on the Internet, "Homestar Runner". Along with Storng Bad, The Cheat, Marzipan, Homsar, Bubs, Coach Z, and many others on an adventure in Free Country U.S.A in this all-new series on YouTube with episodes, specials, songs, shorts, skits, and many others to hit "The Homestar Runner Show".
Episodes
Season 1
Shorts
Specials
Transcripts
Episodes
Season 1
Shorts
Specials
Cast
Gallery
Background Information
Production Information
Domestic Premieres
International Premieres
Errors
Allusions
Homestar Runner-This series follows it closely to all of the cartoons and shorts from homestarrunner.com.
Awards
| Year | Award Ceremony | Category | Nominee | Result |
| --- | --- | --- | --- | --- |
| TBA | TBA | TBA | TBA | TBA |
Related Articles
Shows
Musicals
Contact Information
Community content is available under
CC-BY-SA
unless otherwise noted.