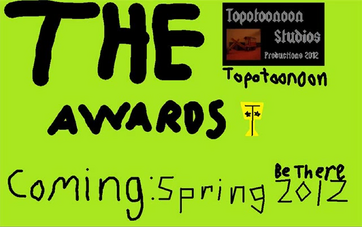 The Topotoonoon Awards is the first ever award show made by the wonderful topotoonoon held on topotoonoon's official YouTube channel. The Award ceremony was broadcast live on YouTube on June 16, 2012 and was hosted by topotoonoon himself, Andrew Joseph Brautigam. The award nominations was announced on March 23, 2012.
Ceremony
Special Awards
Awards
Best YouTuber
Best Editor
Best Associate
Best Wikia
Ackley Attack Wiki (pending)
Supermariokyle100 Wiki (pending)
Thomas The Tank Engine Wiki (pending)
Topotoonoon Wiki (pending)
Best Series
Best Painter
Best Filmer
Best Music Inserter
Best Thomas Fan
Best Topotoonoon Fan
Gallery
Related Articles
Theatrical Shows
Movies
Shows
Contact Information
Community content is available under
CC-BY-SA
unless otherwise noted.