Thomas the Tank Engine is a cheeky little tank engine that works on The Island of Sodor with all of his friends. He has his own branch line, he has two coaches named Annie + Clarabel, he can push and pull freight cars around the yard, and he can also shunt coaches to help with the big engines start with their journies, or help them get up Gordon's Hill with Percy and Edward for when they need help like Gordon, Henry, James, Emily, and many other engines. He can sometimes be very cheeky, funny, and very tricky to the other engines for when he is having too much fun or decided to play tricks on the other engines, he can be very kind to ht eother engines as well as being very tricky to the other engines, but in the end, he can learn from his mistakes. His first appearance in "Thomas & Friends: Island of Sodor Adventures" will be Thomas Helps Out. He will be voiced by Ackleyattack4427.
Early Life
Present Life
Thomas now works on his brachline and still works with his two coaches, Annie + Clarabel.
Sometimes, he helped out on pulling the mail train with Percy for when he is not working on his

Thomas and Gordon arriving at Ffarquhar Station for the Sodor Bake Sale

branchline.
Personality
Thomas is a cheeky, brave, kind, and a very funny engine that likes to works on Sir Topham Hatt's railway.
He can help out an engine, like Gordon for when they are having trouble or not. ("Thomas Helps

Thomas helping Gordon get up Gordon's Hill

Out")
He knows that he was made fun of both him and Percy for when James is being very rude to them, but at the end, James is very sorry to him and Percy. ("James' Unlucky Day")
He was very surprised for when the time,

Victoria

was fixed and good as new. ("Percy & The Haunted Scrapyard")
He was pranked by Gordon, Edward, and Percy on April Fools, but at the end, they were forgiving and he has the best April Fools Day ever. ("Thomas and April Fools Day")
Physical Appearance
Thomas was based off on both Rev. W. Awdry's idea to tell the stories off him and his friends on Sodor to his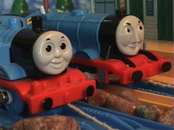 son, Christopher Awdry, but he was also based off on Billinton designed 0-6-0 E2 Class Steam Locomotive built for the London, Brighton and South Coast Railway. He is painted blue and has a number one painted on both sides of his boiler. He works on his branchline with his two coaches, Annie + Clarabel, on the Island of Sodor.
Relationships
Thomas' Best Friend. (More information will be added soon)
TBA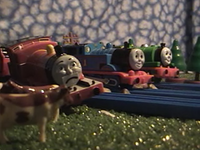 TBA

TBA

TBA
Gallery
Background Information
Appearances
In Other Universes
Trainlover476
Thomas was a wise tank engine around the time between episodes 1-7 of Tomy Thomas and friends, but later became crazy after spending so much time with Henry. Through out the show Thomas, stood up to his former bully Nevile, dated Rosie, hosted Trainlover476's 150th videoversary and many more.

Missoliverandblossom
Thomas, Percy and James were the first characters introduced in

T&F

. He has a crush on Lady the Magical Engine as seen in "100th Videoversary".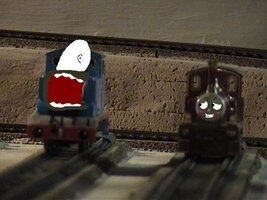 DieselD199
Unlike the original show, Thomas from DieselD199's series personality changes dramatically throughout each episode, he's portrayed as a murderer in shorts 3,7 and 34 in "TOMICA Thomas & Friends" were he, runs over Sir Topham Hatt, Kills Trick or Treaters on Halloween and fits a pressure-activated explosive to Henry's train as an April Fools prank, respectively.
Related Articles
Shows
Musicals
Characters
Contact Information