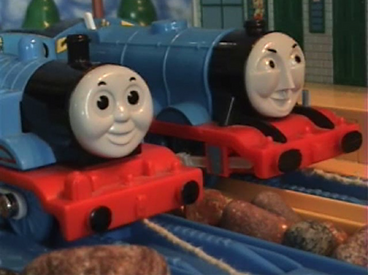 Thomas Helps Out is the first ever episode to "Thomas & Friends: Island of Sodor Adventures." When Thomas is helping out Gordon with taking the passengers to Ffarquahr Station, take a journey of a lifetime with Thomas and all of his friends in this exciting first episode.
Episode Summary
Transcript
For a full transcript of Thomas Helps Out, click here.
Gallery
Memorable Quotes
TBA
Background Information
Production Information
Domestic Premieres
International Premieres
Errors
Up to 9 clips are slanted to an angle.
Continuity
Allusions
This episode combines the three Season 1 episodes of "Thomas the Tanke Engine & Friends", "Thomas Gets Tricked" (Thomas and Gordon), "Edward Helps Out" (Edward Helps Out), and "A Proud Day for James" (James and The Express).
Cast
Guest Stars
ScootRiggs66 as Gordon's Driver
mjoosborn as Gordon's Coach
Related Articles
Shows
Ackleyattack4427's Broadway Musical Reviews
Musicals