Toby and the Jet Engine is the fourth episode to Season 2 to trainboy54's series to have ever hit YouTube, "TOMY/Trackmaster T&F". When Toby was sent to pick up the jet engine from the docks, Cranky swung the switch by accident and sends Toby flying around Sodor and Spencer was amazed by what Toby is, so, Toby was the fastest on Sodor. Will he be the fastest engine on Sodor and also, will he break Spencer's record? Find out in the all-new adventure of "TOMY/Trackmaster T&F".
Episode Summary
Spencer thinks he's faster than any other engine on Sodor. But, the engines were impressed. Sir Topham Hatt sents Toby to collect a jet engine and take it to the airport. Toby arrives at the docks, collected the jet engine, and by mistake, Cranky the crane swunged his hook, and knocked the switch that started the jet engine. Toby zooms down the track and all over the island. Spencer was amazed when he saw this and thinks that Toby is the fastest on the island.
Transcript
For a full transcript of Toby and the Jet Engine, click here.
Gallery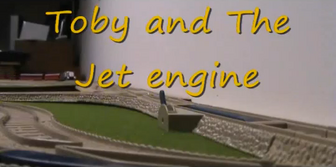 ---
Memorable Quotes
TBA
Background Information
Production Information
Domestic Premieres
International Premieres
Errors
Continuity
Allusions
Thomas and the Jet Engine-This episode instead of Thomas taking the Jet Engine, but Toby taking the Jet Engine.
Cast
TBA
Related Articles
Shows
Musicals